Dog Days Don't Have the Dogs Down
REAL ESTATE NEWS


By Michael Mahoney – The Hardest Working Realtor® in Boston

August 13, 2021

Sensational Headlines Drive Marketing Dollars for Media Companies


You really have to give it to media companies (aka news companies). They are so fixated on eyeballs to sell advertising. They latch onto anything and spin it to cause confusion so people will tune in.

I manage a team of about 18 agents, and our productive agents are still busy and still having difficulty getting properties under agreement for buyers. However, if you watch the news, you would think we are at the precipice of The Bearn Stearns Meltdown.   So not the case….But case in point below…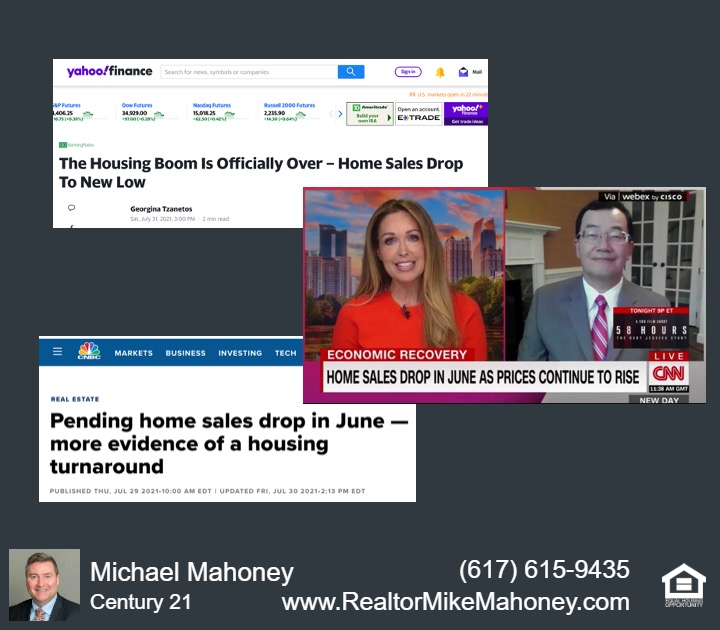 The big question right now for many homeowners and would-be buyers is the market slowing down. As you can see above, there are some headline news stories out there which paint a doom and gloom story. Let's look @ both sides of the story.
It's  my obligation to provide relevant market opinions based on facts and not sensational headlines. As a veteran agent,  it's my responsibility to educate clients so that they can make the best decisions based on the material facts on hand.
I love the slide below, because it's so applicable to many areas in our own lives. Specifically though, we need to cut through the weeds and see what's in the mud if we plan to make any   residential moves.   Mark  Hackett  says it best.
Market Facts
Let's examine some of the facts outside of headlines media and news outlets like to portray.
Here's a slide from the National Association of Home Builders which shows the number of buyers looking to purchase a home is skyrocketing to almost pre-pandemic levels. People are coming out of the pandemic, saying I am going to do what I have to get a house.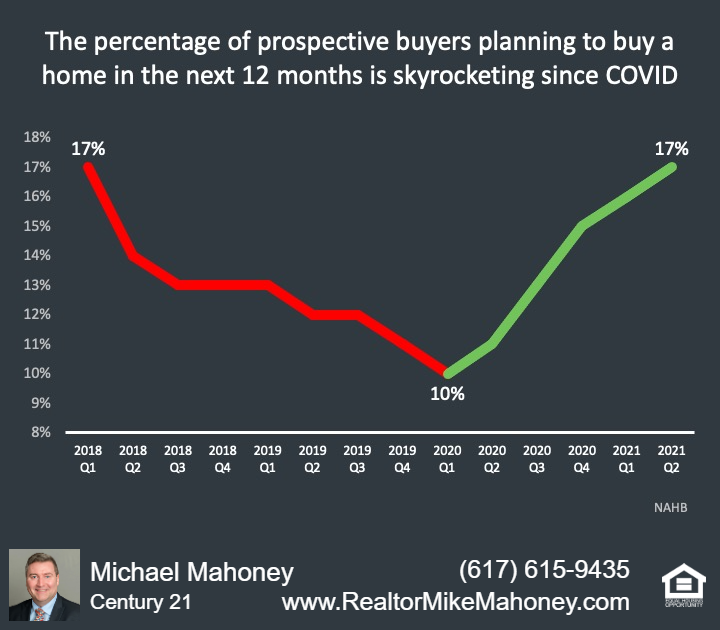 Is Inventory Coming on and Why?
In the slide below, you will see that the number of new listings coming onto the market has been relatively flat Across the nation. In the month of July, we did have a spike. In July, there were 550k new listings.
Why Are New Listings Coming On?
People are starting to feel  more comfortable putting their homes on the market now that the vaccination has rolled out to a larger percentage of Americans. Another contributing factor is that homeowners have realized significant growth in equity in their properties. If you had been planning to do a move up or cash out, there could not be a better time. Check on your equity @ www.yourequityfinder.com
Is the Market Slowing and Will I Lose Appreciation?
Agents and buyers may think that the market is slowing down, because they start to see price reductions. Price reductions are not necessarily indicative of a market slowdown or a reduction in appreciation. Price reductions we're seeing are largely due to sellers that have been trying to "catch the market". They are shooting for the moon with a high price because the market has been up for so long. With all the new inventory coming on and increasing competition for overpriced listings. These listings will have to succumb to the inevitable price reduction.  We have not seen price reductions in the market for a while.
Just to illustrate the power of the news stories that are out there, I went to the National Association of Realtors to fact check. I looked at the pending home sales index report that was the source for a lot of the headline news stories in the image at the top of this post.
Here is the graphic from the National Association of Realtors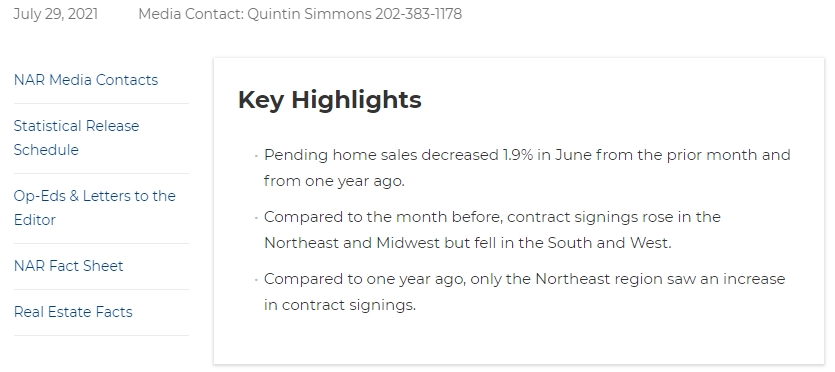 What the reporter did not put in their headline was that contract signings in the Northeast were actually up. It just goes to show you that there are two sides to every story.
If you're a buyer or seller, you owe it to yourself to get the the best information in a timely fashion. Please ensure that you are working with a qualified professional Realtor to help educate yourself so that you can make proper decisions you are exploring.  If you are looking for a Realtor, I would love to meet.
Get the value of your home now
Sources
National Association of Realtors Pending Home Sales Index
Pending Home Sales Decline 1.9% in June 2021
How Would You Like This View?
135 Seaport Boulevard – Unit 1701
Seaport District
Suffolk County
List Price: $1,314,000
MLS # 72881100 Courtesy of TCC Echelon Seaport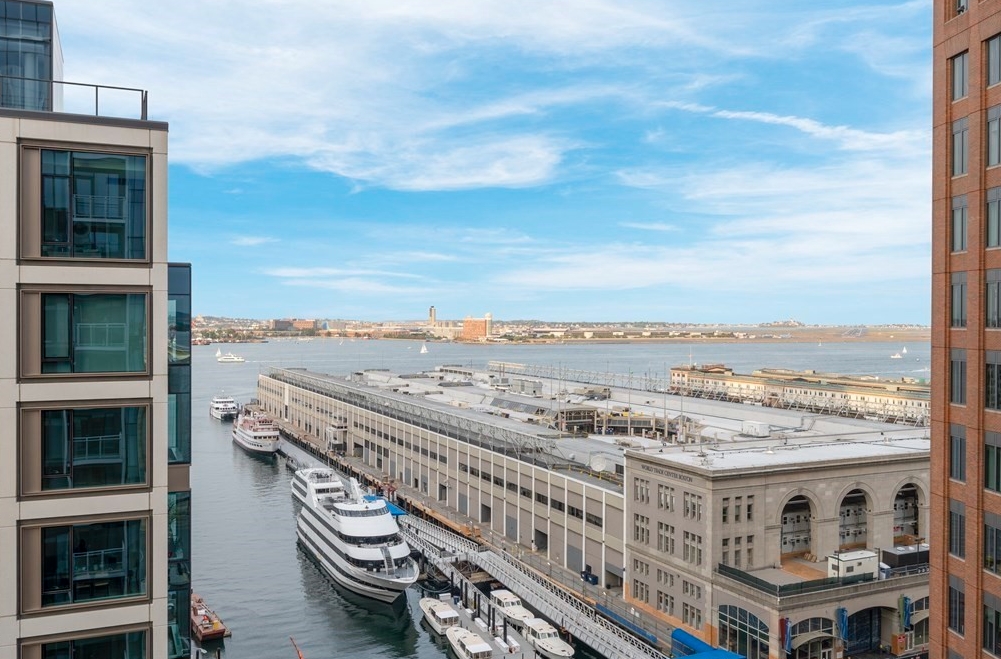 See more here
17th floor Southeast facing 1 BR 1.5 BA with spectacular Harbor View & Garage Parking included! Finishes include white oak wood plank floors throughout, open kitchen with gas cook top & custom Italian cabinetry, Thermador integrated appliances, and spa like marble bath.2 levels of spectacular retail and restaurants paired with over 50,000 SF of indoor and outdoor residential only amenities.
EchelonSeaport residents enjoy 1 indoor and 2 outdoor pools as well as a state of the art fitness facility including an indoor basketball court, sports/golf simulator and yoga studio.
The Club Level features a fireplace lounge, private dining room, and outdoor terraces with grill stations and fire pits all designed to be an extension of your home.
White Glove staff includes 24/7 concierge, doorman, and porters. The Sky Lounge & Terrace on the 22nd floor offers residents the option to entertain overlooking the downtown skyline.
See All Showstopper Homes in Greater Boston Over 1 Million​​​ aka What I Buy When I I hit the lottery
About Realtor Michael Mahoney
Michael Mahoney | Realtor® | 617-615-9435 | mike@mmahoney.com
I am Michael Mahoney, a full-time Realtor® in the Boston area affiliated with Century 21. I have been a Boston area Realtor® since late 2001.
It's my mission to help people realize their form of the "American Dream" using homeownership, real estate wealth building, and real estate investment as cornerstone of their financial foundation.
I work in all price points. The majority of my business is repeat clients and the referral of clients from all over Eastern Massachusetts.
I view my role as the advisor who helps people go from the life they have to the life they dream about. I have sold everything from mobile homes to amazing estates. I have sold hundreds of homes in almost every town in Suffolk and Norfolk County. I also sell homes in Plymouth, Bristol and Middlesex Counties. When asked what my specialty is, I often joke and say "from section eights".
Get the value of your home now
MA. License #9051300
Century 21 American Properties License #10046
​
Michael Mahoney
The Hardest Working Realtor
in Boston
CENTURY 21 American Properties
License #9051300
617-615-9435
mike@mmahoney.com

© 2020 Century 21 Real Estate LLC. CENTURY 21® and the CENTURY 21 Logo are registered service marks owned by Century 21 Real Estate LLC. Equal Housing Opportunity. Each office is independently owned and operated.