What Some Clients Have Said About Michael Mahoney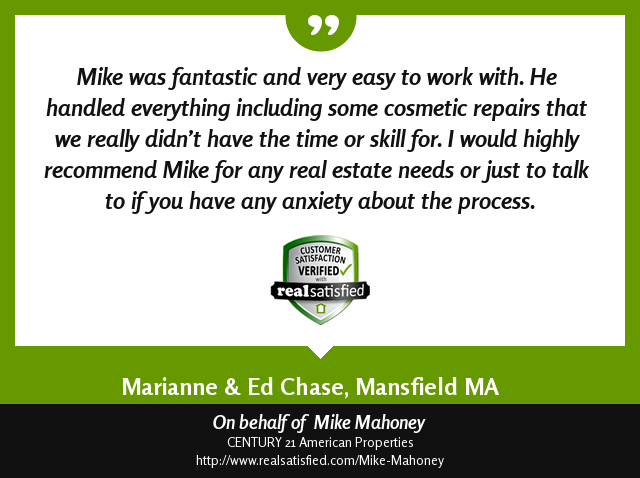 This is a sampling of what some clients have said about me…
Mike has the ability to get the job done. Michael is extremely knowledgeable in the current market conditions and his progressive and unique use of technology for marketing helped to get the word out to many prospective buyers. Throughout our time working together Michael was always available to answer questions and he consistently updated me about the property. Mike is easy-going and personable, yet tenacious and passionate about what he does. Give him a chance; he'll hustle 'til the jobs done!
Karen Carbone
Michael Mahoney has sold several properties for me under a wide variety of circumstances and market conditions. Some of the things I appreciate about him are that he's a sharp salesman, a good problem solver, and cares about people more than most in his business.
If you need to sell a home in the Boston area, he's the go to guy.
Mark Davian
Michael,
I can't tell you how much all of your effort and hardwork selling Franklin meant to me. You are, by far, the best real estate agent I have ever worked with. I don't have much contact with people in Massachusetts anymore, but if you ever need a reference or recommendation I would be happy to. What you did meant a lot. Thanks so much.
Karrie Hoffmaster
This is the second property I have sold with Michael Mahoney as my broker. He researches the area and gives you all the information you need to decide how to market your Boston area property for, so it sells in timely manner. He also helps review and negotiate all offers and is willing to work with you to get things done to get the property sold. Thanks for all your help, Michael!
Denise Keane
Get the Value of Your Property Now
We had been trying to sell our condo for well over a year and decided to give Michael Mahoney a shot at it as he came well recommended. It was not easy for him but he persisted and had success. Even though it wasn't a big sale or profit for him, he acted as though it was in terms of the time and care he took working with us.
Eloise Ginty
Upon putting our house for sale we moved out of state. Michael made the whole process seamless and worry free. Very Responsive and tech savvy. I never write reviews, but he deserves it for great job he did.
Amanda & Greg Richter
I selected Michael Mahoney after having a very unsuccessful experience with a previous broker. He had excellent ideas in helping to sell my house and continued to advertise it with a fresh perspective. His experience helped in a number of ways and I only wish we had selected him sooner. It was a very positive experience and I wouldn't hesitate to recommend him.
Suzanne Chapman
"If you've considered buying or selling a house you've probably heard many times that the three most important things in selling a home are Location, Price and Presentation. One of the best kept secrets in real estate, is that there are actually 4 keys to selling a home. The fourth one is the listing agents follow through.
Michael Mahoney  has a solid knowledge of the market, is good with people –not just as a salesman–and he uses technology better and more creatively than the other agents I interviewed. What I consider most important is that Mike has both a system to keep track of prospects and the dedication to actually follow up on everyone who inquired about or saw my listings.
Follow-through is something most other real estate agents I've dealt with over the years only get around to doing haphazardly, and its what made the difference in my being able to complete the condo conversion and sell in a tough market.
Mark R. 
I am writing on behalf of Michael Mahoney a real estate agent who recently sold my house. Michael is a very enthusiastic worker…he puts his entire heart and soul into getting the job done. I had my house on the market for about 2 years when Michael contacted me stating interest in showing my home. At the time I was not interested in re-listing the property at all, I had gone through a couple of other agents and had no luck getting what I wanted. We made an appointment for Michael to come by and see the house in March 2009, I was so impressed with his attitude I gave Michael the listing. By May 2009 Michael had the property under agreement but with some bad luck that deal fellthrough. Needless to say that at the end of June again the house was under agreement for the 3rd and final time, I was able to close on my property at the end of July at a fair market value with the economic times we
are facing. I would highly recommend Michael Mahoney and would say that he is very capable of getting the job done.
Linda D.
Thank you very much for all of your hard work in helping to get us in the town and home that we are very excited to be in. We appreciate all of your efforts, honesty, and professionalism in getting us through the process smoothly and timely. Additionally, thanks for your patience, as we worked through and changed our search based on market availability and affordability.
We feel like Milton is a great town and are very excited to be part of the community. More importantly, Brook Road is the house for us! All of your assistance above and beyond buying the house has helped make our transition seamless. We will continue to recommend you to anyone that we know looking to buy or sell a home in Milton and surrounding towns. Thanks again and Happy Holidays to you and your family.
Warmest Regards,
Stephen
Relocated Captain US Army-West Point Grad
This is just a quick note to say thank you so much for all of your help with the sale of Greenbrier Street. You stepped into a rather difficult situation and handled it like a true Professional. I attribute the sale as a result of your marketing plan and your overall knowledge of the surrounding market, not to mention all of the trips you made up to the house for the showings. You had a plan and you executed it perfectly. Not only did you help with the overall negotiation process, but you went above and beyond in getting the final few issues resolved prior to the closing.
Being a real estate agent is not an easy job, however  working with you w a s great. You are a true professional.
Keep up the great work!!!! All the best,
Scott (Seller – Real Estate and Appraiser too)
Boston, MA
I was a first time home buyer and as stressed out as they come! Michael went above and beyond to make the whole experience as easy as possible, taking care of all the details I couldn't have managed on my own. He kept me informed every step of the way so that I never had to worry about what would happen next.
Marcella
(Buyer and subsequently a seller and purchase again)