Is there a Market Shift in the Residential Real Estate?
Shifts are Happening in the Real Estate Market.
Inventory is starting to come onto the market which is a welcome relief for many buyers.
As we start to enter the Fall market, sellers should closely look at the signs of the upcoming market. If you are planning to move this fall, then the old strategy of seeing what the neighbors house sold for and saying "well mine is worth more" doesn't work. This strategy worked in the heated market, but it won't be a winning strategy in the Fall. Buyers are closely examining value and won't be pushed into the corner like they were in the spring/summer.
What Sellers Should Not Do
Sellers should not get ahead of the pricing curve. The market is opening for buyers. Buyers are aware of market value and not writing ridiculous offers like they were in the early 2021 heyday.
After tough Spring/Summer market for some buyers, some have been priced out and have jumped on the sidelines. During the spring/summer, many buyers were hard at work looking at properties and making offers, and missing opportunities on getting anything together. As people were beat out on houses and not getting offers accepted, some buyers hit the sidelines. Buyer fatigue has set in for some caused them to wait until the market has more inventory available to them.
What are the Real Estate Agents Saying?
In a recent office encounter with some colleagues, we all shared what we are seeing at open houses and on showing appointments. We collectively agreed that we are seeing offers at and above list prices, but not as many multiple offers. This is not that case for every house. The right house, in the right location with the right price will still fetch "crazy offers".
Buyers are not  making the split-second decisions they were the hot market. The pace is allowing for buyers to sit down become more prepared for entering the fall market. A slight slow in pace is allowing buyers to build a solid foundation for their house hunt.
Is it Still A Seller's Market?
In the graph below, you will see that it's still a seller's market. You will note that it's coming off the bottom and trending towards the middle of the "neutral" market area. We still have a long way to go to get to a "buyers market".
Buyers who have been priced out of the market have jumped to the sidelines. There appears to be some glimmers of hope as more inventory is starting to come onto the residential real estate market.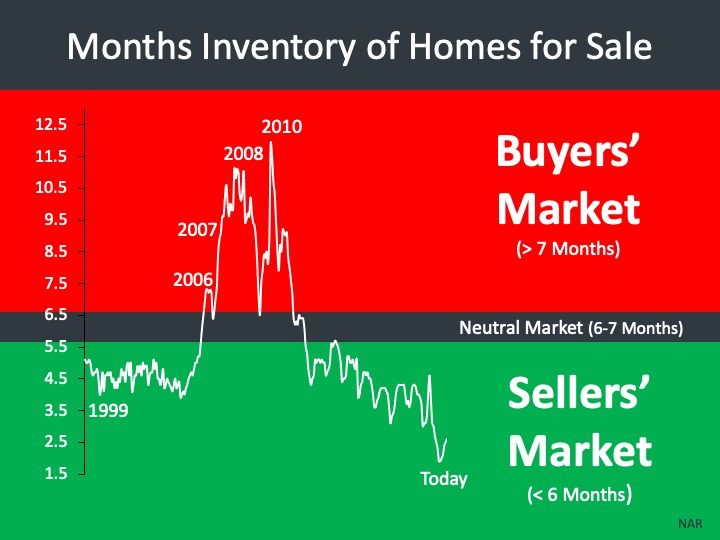 Buyers Needs the One-Two Punch!
The market is starting to deliver a good combo for buyers as we approach the Fall market. Inventory being added daily and some buyer's taking a reprieve is allowing for serious buyers to make their move and get homes under agreement.
The market froth is not as rich as it was in the super overheated spring/summer. We are seeing the market trend towards a more normal market. This is good for both buyers and sellers. Many potential sellers put their home sales on hold, as they had nowhere to go. It's great to be a seller in this market, but it only works when you have a place to go. The drought in inventory keeps seller's on the sidelines as well. As things come onto the market, it gives sellers more options too. The market works better for all when there is slightly more balance for buyers and sellers.
What's Happening with Inventory?
The National Association of Realtors keeps track of inventory levels nationwide. In the graph below, you will see that we are still in a seller's market across the country. We are starting to come up a little off the low point in the graph.
The market froth is not as rich. We are seeing the market trend towards a more normal market. The combination of buyers hitting the sidelines and more inventory coming onto the market is making residential housing a little more accessible to buyers.
Read "HOUSING INVENTORY SLOWLY COMING BACK AS FRENZY FADE"
There is great news for buyers as we enter the Fall market. Interest rates are extremely low. The low interest rates help soften the blow delivered by high year over year home appreciation that sent prices off the charts in the last year. In the May 2021, the year over year appreciation on the national level was over 15%
Bottom line: Sellers need to be cautious about pricing their home in the Fall market.
Would you like to see the latest listings and virtual tours in your area, you can get connected to all the latest listings here
Ready to go out and shop in person check out upcoming open houses in the Boston area
Have you been curious about the value of your home or just want to get an idea of how much equity there is in your home, check out www.YourEquityFinder.com
Michael Mahoney | Realtor® | 617-615-9435 | mike@mmahoney.com
About Realtor Michael Mahoney
I am Michael Mahoney, a full-time Realtor® in the Boston area affiliated with Century 21. I have been a Boston area Realtor® since late 2001.
It's my mission to help people realize their form of the "American Dream" using homeownership, real estate wealth building, and real estate investment as cornerstone of their financial foundation.
I work in all price points. The majority of my business is repeat clients and the referral of clients from all over Eastern Massachusetts.
I view my role as the advisor who helps people go from the life they have to the life they dream about. I have sold everything from mobile homes to amazing estates. I have sold hundreds of homes in almost every town in Suffolk and Norfolk County. I also sell homes in Plymouth, Bristol and Middlesex Counties. When asked what my specialty is, I often joke and say "from section eights".
MA. License #9051300
Century 21 American Properties License #10046