Make no mistake about it, it's still a hot market. There are just more choices which gives the buyers a chance to breath and make more deliberate decisions.
As we come into the Fall selling season, we have seen more inventory come onto the market which gives buyers a little more choice and little more breathing room to make smarter decisions.  The market is still hot, it's just not as "white hot" as it once was.
Here is what Odeta Kushi , Deputy Chief Economist from Corelogic has to say:
"It's not the white-hot market from earlier in the year & it's not the 2020 market benefiting from a wave of pent-up demand but make no mistake this is still a hot housing market. Purchase apps slow modestly week-over-week but remain above 2019 levels. (the strongest in a decade!)."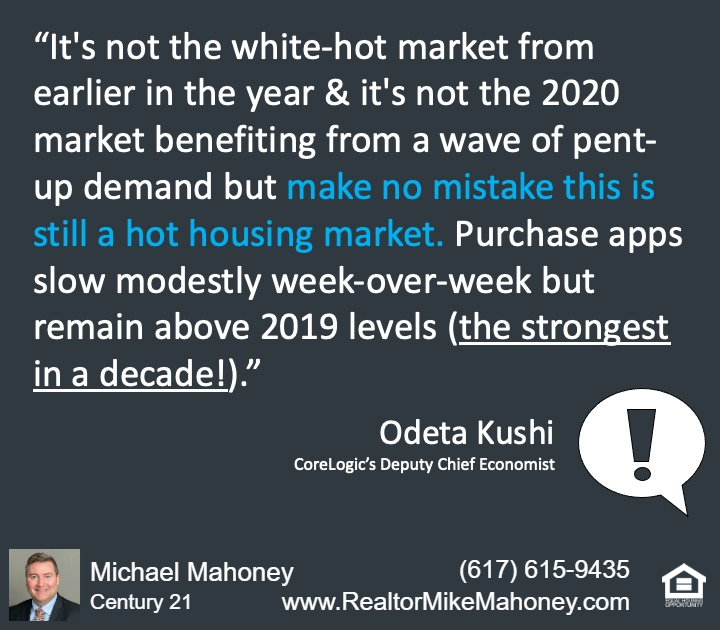 Although there is more time for buyers to make decisions, they will still need to move fast.  Speed and the pace of sales are contributing factors to today's competitive housing market. According to the latest Existing Home Sales Report from the National Association of Realtors (NAR), the average home is on the market for just 17 days. As the report notes:
Bottom Line
Don't delay a decision. This is an extremely fast moving market. The combination of housing supply challenges, low mortgage rates, and extremely motivated buyers gives sellers a the upper hand. If you're thinking about making a move, let's chat about why it makes sense to list your house now.

About Realtor Michael Mahoney
Michael Mahoney | Realtor® | 617-615-9435 | mike@mmahoney.com
I am Michael Mahoney, a full-time Realtor® in the Boston area affiliated with Century 21. I have been a Boston area Realtor® since late 2001.
It's my mission to help people realize their form of the "American Dream" using homeownership, real estate wealth building, and real estate investment as cornerstone of their financial foundation.
I work in all price points. The majority of my business is repeat clients and the referral of clients from all over Eastern Massachusetts.
I view my role as the advisor who helps people go from the life they have to the life they dream about. I have sold everything from mobile homes to amazing estates. I have sold hundreds of homes in almost every town in Suffolk and Norfolk County. I also sell homes in Plymouth, Bristol and Middlesex Counties. When asked what my specialty is, I often joke and say "from section eights".
Get the value of your home now
The information contained, and the opinions expressed, in this article are not intended to be construed as investment advice. Michael Mahoney, Realtor® does not guarantee or warrant the accuracy or completeness of the information or opinions contained herein. Nothing herein should be construed as investment advice. You should always conduct your own research and due diligence and obtain professional advice before making any investment decision. Michael Mahoney will not be liable for any loss or damage caused by your reliance on the information or opinions contained herein.