This week's focus will be on the national numbers for real estate sales in the United
States.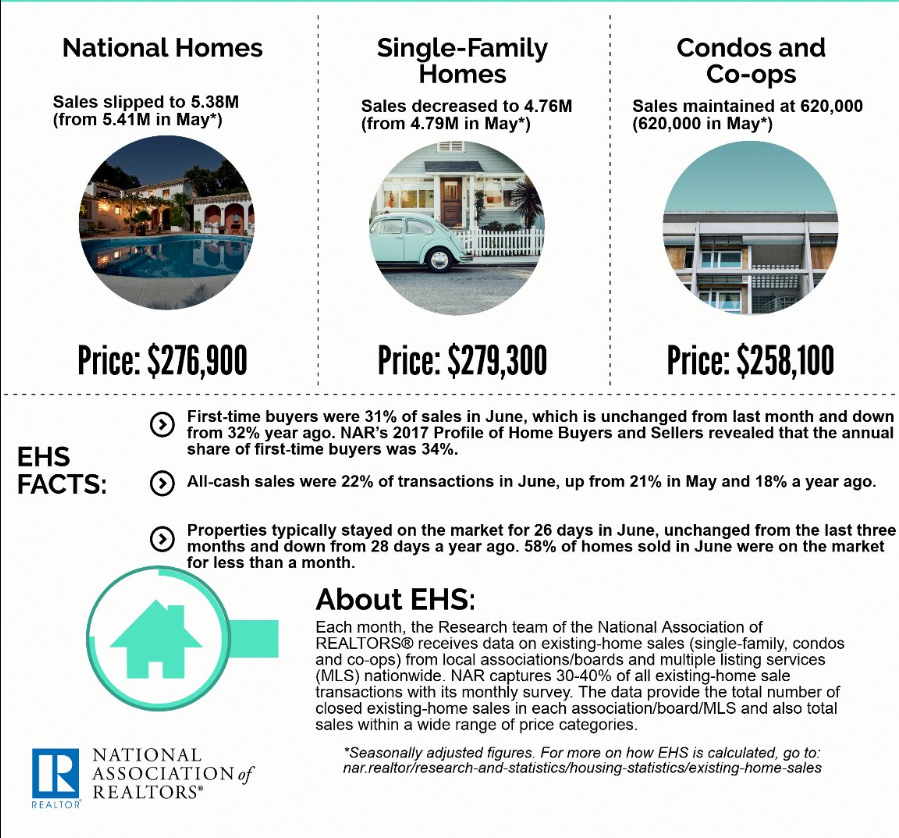 In a press release on Tuesday, the National Association of Realtors reported that homes on the market are in short supply and it's having an effect on the quantity of sales and also pushing prices to new highs.
WASHINGTON (July 23, 2018) — Existing-home sales decreased for the third straight month in June, as declines in the South and West exceeded sales gains in the Northeast and Midwest, according to the National Association of Realtors®. The ongoing supply and demand imbalance helped push June's median sales price to a new all-time high.
Here is what the National Association of Realtors Chief Economist had to say:
The root cause is without a doubt the severe housing shortage that is not
releasing its grip on the nation's housing market. What is for sale
in most areas is going under contract very fast and in many cases, has multiple offers. This dynamic is keeping home price growth elevated, pricing out would-be buyers and ultimately slowing sales."

"It's important to note that despite the modest year-over-year
rise in inventory, the current level is far from what's needed
to satisfy demand levels," added Yun. "Furthermore,
it remains to be seen if this modest increase will stick,
given the fact that the robust economy is bringing more
interested buyers into the market, and new home
construction is failing to keep up."

Lawrence Yun – National Association of Realtors
July 23, 2018 Press Release
Watch Lawrence Yun on CNBC
What's Happening in the Northeast
June existing-home sales in the Northeast jumped 5.9 percent to an annual rate of 720,000, but are still 4.0 percent below a year ago. The median price in the Northeast was $305,900, which is up 3.3 percent from June 2017.
First Time Buyers Were a 3rd of the Market
First-time buyers were 31 percent of sales in June, which is unchanged from last month and down from 32 percent year ago. NAR's 2017 Profile of Home Buyers and Sellers – released in late 2017 – revealed that the annual share of first-time buyers was 34 percent.
Show me the Money
All-cash sales were 22 percent of transactions in June, up from 21 percent in May and 18 percent a year ago. Individual investors, who account for many cash sales, purchased 13 percent of homes in June, down from 15 percent in May and unchanged from a year ago.
Is Now the Time to Sell?
If you have a home that you believe is sub-par for the market, now would be the time to unload the property. With the supply as low as it is, you will be able to sell the property despite the condition. If your horizon to sell was a couple of years out, you may consider moving that up. I am not a fortune teller, but we do have cycles in the economy, why not go out on top.
If you want to get the value of your place, check out:
www.HomeValueBoston.com
Mortgage Rates at the National Level
Mortgage rates dropped slightly last week, but overall, they were mostly flat, offering some temporary relief to borrowers.
Mixed economic data this week prompted mortgage rates to remain in mostly a holding pattern, says Sam Khater, Freddie Mac's chief economist. "Manufacturing output and consumer spending showed improvements, but construction activity was a disappointment," Khater says.
"This meant there was no driving force to move mortgage rates in any meaningful way, which has been the theme in the last two months. That's news for price-sensitive home shoppers, given that this stability in borrowing costs allows them a little extra time to find the right home."
Freddie Mac reports the following national averages with mortgage rates for the week ending July 19:
You can read more about National Mortgage Rates Here
Now may be the time to refinance or get pre-approved. I have many qualified lenders I work with.
If you need a referral, please contact me about connecting with one of my mortgage partners
Houses and Condos We Need for Buyers
As I mentioned above, the inventory is quite low. This week, we have five buyers that we are working with to find houses and condos for.
We need homes for the following buyers now.
Buyer #1
The

1st buyer

is a small family who

can spend up to $450K

. They are looking in the following towns:

Norton, Mansfield,Wrentham,Millis,Medway,Walpole,Norwood, Canton,Sharon

(or close to these). Important items for them is at least 3 baths and 1.5 baths.
Buyer #2
The next person we are looking for is a buyer who is looking purchase a condo. The

buyer can

spend about $200k

. The condo fee should not exceed 300/month. The ideal location would be

Framingham, Natick, Holliston, Ashland but we are "open" to other areas.
Buyer #3
The next buyer is a

1st time buyer who is looking to purchase in Watertown, Natick or Framingham

. This buyer can

spend up to 475k

.
Buyer #4
We have a buyer who is looking in Dedham for About 400k – One level living is the most important factor.
Buyer #5
A young first time buyer looking ideally to be in "The Bridgewaters, Raynham, Norton or Taunton. Their purchase price is up to 325k.
If you know of anyone who may have a house or condo which fits these folks, reach out to me @
617-615-9435 or send me an email
Boston Harbor Hotel Events in the City
The Boston Harbor Hotel will once again transform its harbor side terrace into an outdoor cinema beneath the stars for its Annual Movies by Moonlight series on the waterfront.
In addition to the movies, they also have music on Tuesdays, Wednesdays and Thursdays. See the full Boston Harbor Hotel schedule here
The Movies by Moonlight series offers offers guests a chance to revisit Hollywood's silver screen and modern classics.
The cool evening breeze and view from Intrigue Café set the stage for the perfect opportunity to view these classic films under the stars.
6/8 No Movie
6/15 When Harry Met Sally
6/22 It Happened One Night
6/29 Grease
7/6 Field of Dreams
7/13 The Lion King
7/20 Splash
7/27 Wizard of Oz
8/3 Breakfast at Tiffany's
8/10 The Karate Kid
8/17 Hook
8/24 Dr. No
8/31 Out of Africa
*Recommended for mature teens and adults.
This Weeks Must See Home
This weeks must see home is in Manchester on the North Shore of Boston. I love exploring some
of the more exquisite homes on the market in Massachusetts. This week's must see home is located at 3 Norton's Point in Manchester MA. The listing agent for the property is Lynda Surdam of Coldwell Banker
The home is currently on the market for $10,750,000.
See all the photos of the property here
See the Youtube video of the property here
There are only a handful of homes on the market for more than 10mm.
See homes in Greater Boston over 10mm – Stunners
Here is the description of the property:
A rare opportunity to own one of Manchester's iconic properties
on beautiful Norton's Point. Steeped in history, this magnificent harbor
front property was originally designed by Arthur Little in the Shingle
style in 1883 and has been painstakingly restored with the collaboration
of Public Television's "This Old House" to bring this distinguished home
into the 21st century. "The Moorings" offers water views from every room, a dramatic
two story foyer with views of the Rotunda, Chef's kitchen, an acoustically
designed living room with music alcove, formal dining room, large
master suite with spacious soaking tub; open, bright spacious rooms
throughout. Modern and efficient utilities.

A wonderful boathouse with a deep water dock that is the envy of
many that gives immediate access to the harbor and outer seas. Three acres
of lovely gardens, stone patios, and covered decks. This is an unparalleled property
and extraordinary opportunity for the sophisticated buyer.

Download Our Home Search App Now

Find homes for sale in your immediate vicinity using the GPS-driven real estate search tool

Search homes based on commute times, address, MLS number, or school boundaries

See details of a property, including price, square footage, taxes, features, descriptions, pictures, and maps

Save your favorite homes to view later

Share homes to your family and friends by text, email, Facebook, or Twitter

Learn affordability information with the Mortgage Calculator

Quickly connect with our eXp Realty agents who can schedule a showing or answer questions about the home

Download the App Now

---

---

| | |
| --- | --- |
| | Michael Mahoney Realtor, eXp Realty |

Considering a career change in real estate, eXp realty and my team is growing – Reach out if you are considering a career change.
See more about eXp Realty here