National Real Estate Stats for June 2018
National Real Estate Stats for June 2018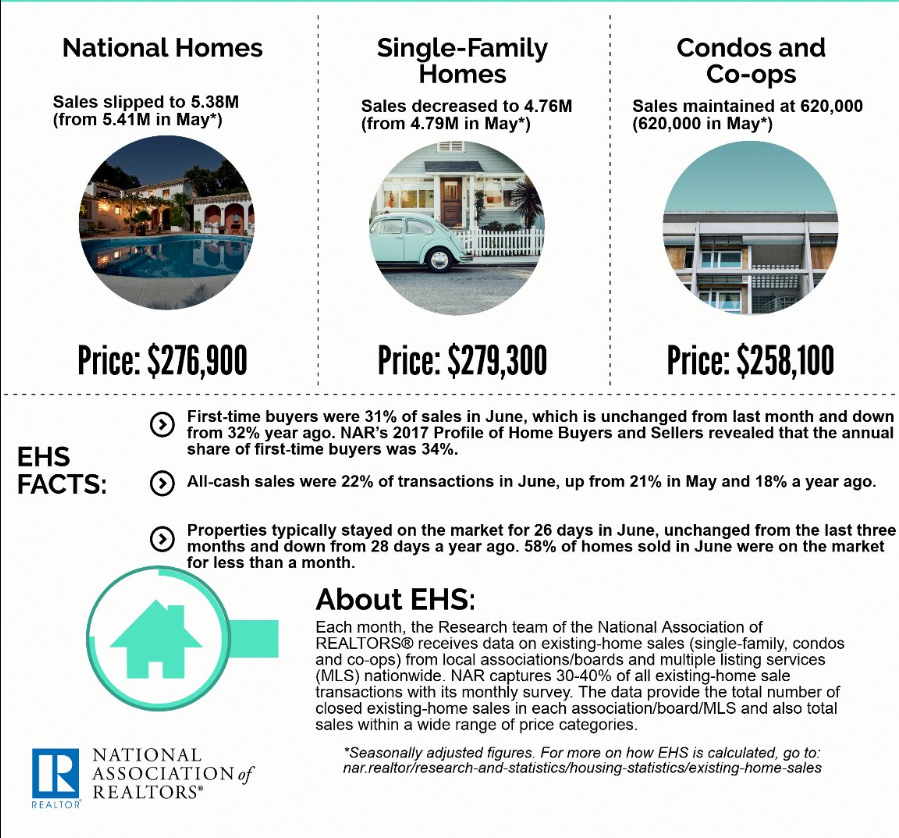 In a press release on Tuesday, the National Association of Realtors reported that homes on the market are in short supply and it's having an effect on the quantity of sales and also pushing prices to new highs.
WASHINGTON (July 23, 2018) — Existing-home sales decreased for the third straight month in June, as declines in the South and West exceeded sales gains in the Northeast and Midwest, according to the National Association of Realtors®. The ongoing supply and demand imbalance helped push June's median sales price to a new all-time high.
Here is what the National Association of Realtors Chief Economist had to say:
The root cause is without a doubt the severe housing shortage that is not
releasing its grip on the nation's housing market. What is for sale
in most areas is going under contract very fast and in many cases, has multiple offers. This dynamic is keeping home price growth elevated, pricing out would-be buyers and ultimately slowing sales."

"It's important to note that despite the modest year-over-year
rise in inventory, the current level is far from what's needed
to satisfy demand levels," added Yun. "Furthermore,
it remains to be seen if this modest increase will stick,
given the fact that the robust economy is bringing more
interested buyers into the market, and new home
construction is failing to keep up."

Lawrence Yun – National Association of Realtors
July 23, 2018 Press Release
Watch Lawrence Yun on CNBC
What's Happening in the Northeast
June existing-home sales in the Northeast jumped 5.9 percent to an annual rate of 720,000, but are still 4.0 percent below a year ago. The median price in the Northeast was $305,900, which is up 3.3 percent from June 2017.
First Time Buyers Were a 3rd of the Market
First-time buyers were 31 percent of sales in June, which is unchanged from last month and down from 32 percent year ago. NAR's 2017 Profile of Home Buyers and Sellers – released in late 2017 – revealed that the annual share of first-time buyers was 34 percent.
Show me the Money
All-cash sales were 22 percent of transactions in June, up from 21 percent in May and 18 percent a year ago. Individual investors, who account for many cash sales, purchased 13 percent of homes in June, down from 15 percent in May and unchanged from a year ago.
Is Now the Time to Sell?
If you have a home that you believe is sub-par for the market, now would be the time to unload the property. With the supply as low as it is, you will be able to sell the property despite the condition. If your horizon to sell was a couple of years out, you may consider moving that up. I am not a fortune teller, but we do have cycles in the economy, why not go out on top.
If you want to get the value of your place, check out:
www.HomeValueBoston.com
Mortgage Rates at the National Level
Mortgage rates dropped slightly last week, but overall, they were mostly flat, offering some temporary relief to borrowers.
Mixed economic data this week prompted mortgage rates to remain in mostly a holding pattern, says Sam Khater, Freddie Mac's chief economist. "Manufacturing output and consumer spending showed improvements, but construction activity was a disappointment," Khater says.
"This meant there was no driving force to move mortgage rates in any meaningful way, which has been the theme in the last two months. That's news for price-sensitive home shoppers, given that this stability in borrowing costs allows them a little extra time to find the right home."
Freddie Mac reports the following national averages with mortgage rates for the week ending July 19:
You can read more about National Mortgage Rates Here
Now may be the time to refinance or get pre-approved. I have many qualified lenders I work with.
If you need a referral, please contact me about connecting with one of my mortgage partners